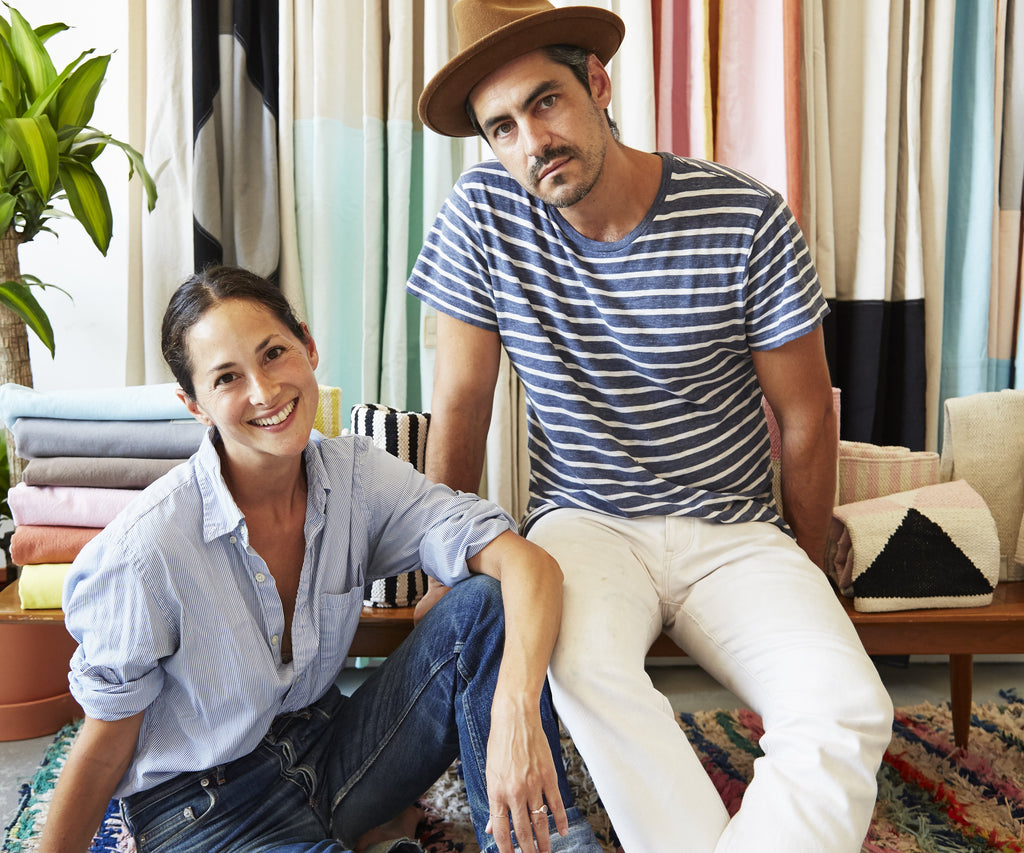 We are always on the lookout for brands that inspire us and that we think are doing great things in their category. Quiet Town certainly fits that description.
Quiet Town makes responsible bathroom accessories - including towels, rugs, curtains and more. Not only are their designs beautiful, but they are also building their brand with sustainable, thoughtful growth at the forefront. Whether it is their path towards 100% compostable packaging, partnering with manufacturers practicing ethical production, or optimizing their logistics to lower their carbon footprint - their entire outlook is focused on how they can build long lasting, premium products the right way. 
We were fortunate enough to connect with their founders and ask them a few questions about their business, bathrooms, and design. Here are the questions:
We know your company is doing a lot to make sure you are as sustainable as possible - tell us a little more about your efforts.
For starters, we don't throw anything away. All of our canvas remnants are up-cycled in new and unique ways under our Re:canvas collaborations with artists and designers. We have also gone compostable with about 90% of our packaging and we're working towards a circular design structure for our Sun Shower curtains so there is no real "end of use."
What is one staple item that you have in all of your bathrooms?
We have our bath kilims in each of our bathrooms. We also have a handy little scrub brush to do quick-cleaning touch ups in the sink (my 8-year-old daughter is obsessed with makeup and there's always eyeshadow remnants in the sink) and our sun shower curtains.  
What is one easy trick that you think makes any bathroom feel better?
I think having a polished faucet immediately "cleans" up a small bathroom so I'll take a towel with or without cleaning spray and just quickly go over the faucet for a little sparkle. 
I also think adding a plant to your bathroom immediately brings some life to the space. 
How do you like to decorate your bathroom when the calendar turns to fall?
Honestly, I don't make seasonal changes to our bathroom since I'm constantly rotating Quiet Town products through the space.
Do you have any deal breakers when it comes to bathroom design?
Squishy toilet seats and shower doors
Your items are so beautifully designed - who inspires you when it comes to design?
We are very inspired by artists like Hilma af Klint, Eva Hesse, Joseph Albers, Andy Goldsworhty and last but not least we always find inspiration and ideas on a hike. Things just become clearer in nature.
A lot of city bathrooms don't have any windows. How do you brighten and open up a small enclosed bathroom?
A lot of our customers turn to our Sun Shower curtains for small spaces with little to no light. 
Visit their website here to learn more and see their collections.