3-ply Softness

Recyclable Packaging

No plastic or BPAs, ever!

Fast Growing Bamboo
Whats Included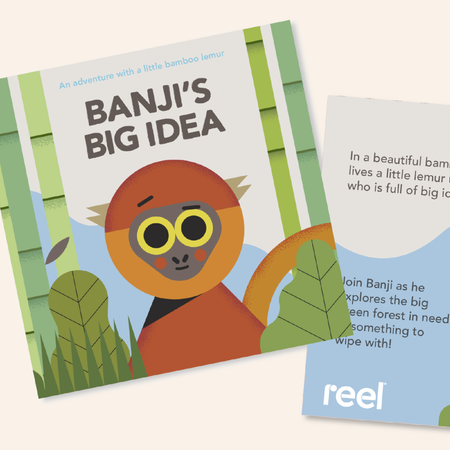 Banji's Big Idea Storybook
Our 30 page storybook takes you on an exciting journey with Banji to find some toilet paper for him to ahemm..do his business. He travels far and wide in search of toilet paper and runs into some interesting characters along the way.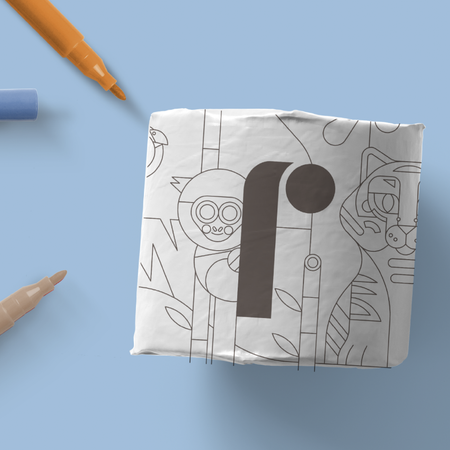 24 Custom Wrapped Rolls
Want to make Banji your own? Our 100% bamboo toilet paper rolls custom individual wrappers let you do just that. Grab a few crayons or colored pencils and start coloring away.
* For added fun, the cardboard roll can be turned into a fun craft. Just grab some construction paper, glue, scissors, and some googly eyes and you have an almost endless amount of easy peasy toilet paper roll crafts.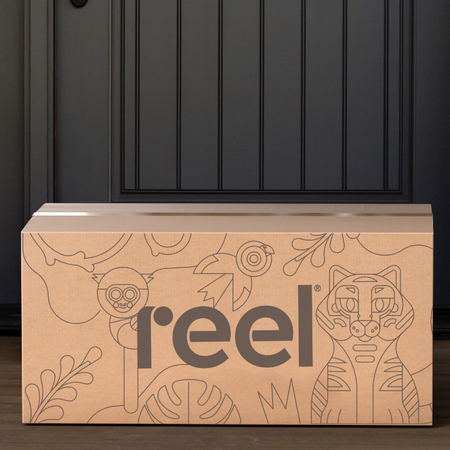 New Safari Box
With a little pinch of creativity, this box makes for the perfect safari backdrop for any game around the house. Grab a couple of the toilet paper rolls as binoculars, or a paper towel roll as a telescope, alter the box however you see fit, and bring the safari home in just a few minutes.
Why the Little Lemurs Box?
This box started with one simple question - how can we continue to the conversation around sustainability in the home? After all, we started Reel to protect our planet, for this generation and the next. Unfortunately, toilet paper habits are something that can be passed on from generation to generation. So we put our thinking hats on to build a new product that delivered our premium paper, but also provided a fun opportunity to talk about sustainable solutions.
When it comes to sustainable alternatives a lot of times it just takes a simple switch or tweak to make a world of difference. Traditional toilet paper is made from trees - meaning lots of healthy, carbon sequestering trees are cut from forests to make a paper product that is used once and then discarded. Instead, we make our products from bamboo - a fast growing grass, which is also very durable so it can make soft & strong paper. This simple switch means every roll of this eco-friendly toilet paper helps reduce deforestation.
Are you looking to learn more about Banji? Follow along on our social channels for more information. Now that he's discovered this sustainable toilet paper in his forest, we think he will be very eager to share the news with more of his forest friends.
The Little Lemurs Box was designed by the talented illustrator - Owen Davey.
Top Questions
Our kids' toilet paper box is the perfect opportunity to start talking to your kids about sustainability. Talk to your child about how our bamboo toilet paper is a sustainable alternative to traditional toilet paper. You can also explain what it means to reduce waste by repurposing the cardboard tube and box into kids' crafts.
Our toilet paper costs $36.99 for subscription purchases and $43.99 + shipping for one time purchases. Our paper towels cost $39.99 for subscription purchases and $44.99 + shipping for one time purchases
You are able to cancel anytime before your next order is placed automatically based on your subscription frequency.
Yes you can purchase a box of Reel without a subscription. However, we recommend subscribing to enjoy Free Shipping. You can cancel your subscription at any time, for any reason, hassle-free.
The commercial toilet paper industry is one of the largest contributors to deforestation. Roughly 405 million tonnes of paper goods are produced every year, including the standard roll. The current production rate accounts for 13-15% of total wood consumption, and production is expected to double by 2050. So, why choose bamboo? Bamboo is a fast growing plant that can produce at least 30% more oxygen and can store carbon more efficiently. Essentially, bamboo is like grass and replenishes itself while storing carbon in its biomass. Every use of toilet paper from bamboo is an active step towards protecting our planet and combating deforestation. Learn more and make the switch to our bamboo paper products.
Making bamboo toilet paper is similar to regular TP. After harvesting the bamboo, its fibers are broken down to create bamboo pulp. However, the main focus of our process is eliminating harsh chemicals like dyes, ink, and BPAs so you can enjoy a clean bath tissue product for your home.
Both bamboo and recycled toilet paper are eco-friendly solutions. Ultimately, it's up to your preference in toilet tissue. Bamboo tissue paper is soft, yet strong. It performs on par with regular toilet paper, but is made with fibers from a fast-growing grass. Learn more about bamboo vs. recycled toilet paper to understand the environmental benefits of both tree-free products.
Our bamboo toilet paper is available for subscription at $36.99 and for one time purchase at $43.99 (both include shipping). In partnering with SOIL, our profits help communities in Haiti prevent the spread of airborne disease through waste material. Join us on our mission to provide toilets and sustainable options to improve the quality of life around the world.
Although the Little Lemurs Box isn't geared toward potty training, it can be a fun product to include during that phase. Many children begin showing signs that they are ready to potty train when they are 18 - 24 months. However, that's not always the case. Some children aren't ready until they're older. It's important to look for signs that they are ready - some signs include: interest in the potty verbal commucation about dirty diapers or needing to go the ability to pull down their diaper or underwear
Great question! If you have a mischievous little one that tends to unroll your toilet paper, here is a tip to stop it. Before putting the toilet paper on the roll holder, gently squeeze the toilet paper roll until the cardboard tube is bent. This will stop your child from unraveling the whole roll in one motion.