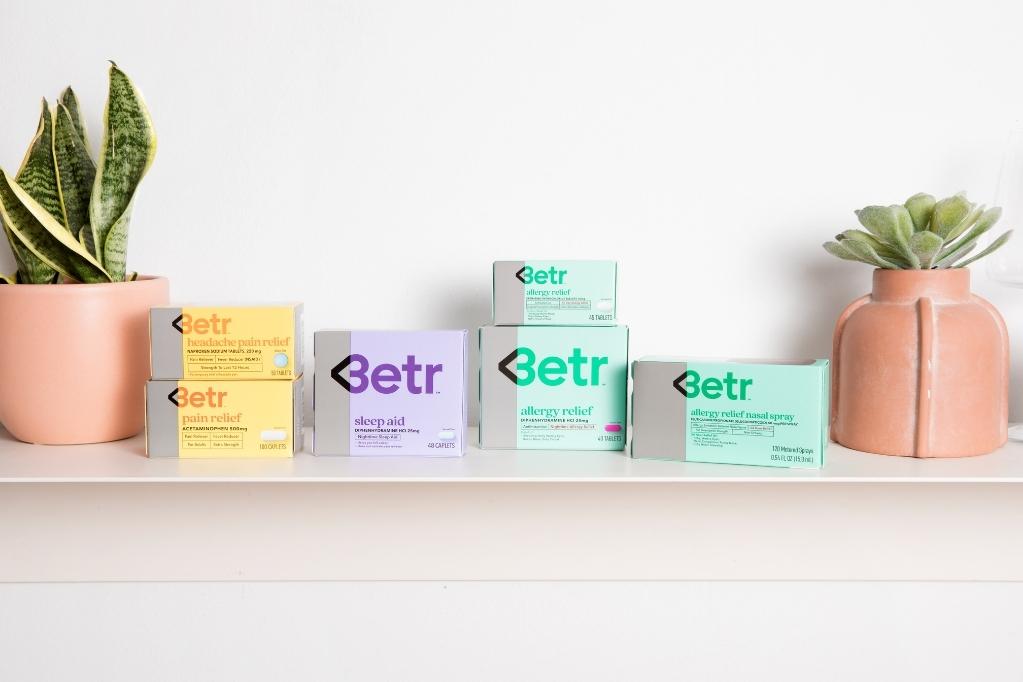 Did you know that 1 in 4 Americans can't afford the medication they need? Healthcare and medication inequity in the U.S. is a national crisis that primarily affects underserved communities made up of over 50% Hispanic and Black Americans. Every day 10,000 people in America die every day from lack of medication (more than car accidents and opioid overdoses combined). Yet, $10 billion worth of perfectly good, unused medications are sent to landfills each year, polluting 70% of our waterways with pharmaceutical runoff. There has to be a better way.  
Introducing: Betr Remedies
Betr Remedies is an over-the-counter (OTC) medication brand that's on a mission to solve this exact problem that affects nearly 50 million Americans each day. They do this by helping to fund the system that collects surplus medications, saves them from being sent to landfill, and distributes them to those who need but can't afford them. Their goal is to donate $10 million in medications in the next 4 years, which equates to $450M of savings for those who can't afford them. That means that when you buy your OTC products from Betr, not only are you getting what you need to feel better, but you're helping someone else feel better as well.  
Betr Remedies offer the same products as leading brands, but a better solution to getting the products you need. Their current assortment offers products in the pain, sleep, and allergy categories but will expand to include digestive, cough/cold, and hydration by the end of the year.  
A Betr Solution
 Betr believes in a better way not only for those who are in need to get the medication access they deserve, but also for those shopping the OTC space to have a better experience. They set out to become a brand unlike the current OTC giants. Their goal is to empower the consumer to make educated decisions about their selfcare, by offering them total product transparency and all the information they need, without any of the misleading marketing tactics.  
A simplified shopping experience starts with a simplified assortment. Betr Remedies did the research to understand the products that their consumer purchases and built a curated assortment with that in mind. When you shop their site, you'll find one of each product you need, yes - just one. Looking for an allergy nasal spray? You could spend 20 minutes in the OTC aisle, perusing the options or you could shop Betr Remedies add their one nasal spray to your cart in seconds. It's the same active ingredient found in the nation's leading nasal spray and the #1 doctor recommended active ingredient for that product. That's the same for all of their products! Simple, effective, and helping those in need. 
Betr Remedies also ensures that consumers have all of the information about each product by offering radical transparency unseen in the current market. When visiting their website, you'll find clear information about each product, the ingredients, and the symptoms it treats. Want to know more? Check out the Betr Transparency Tool, which shares all the test results of your product. What you won't find is large flashy claims in plain sight with hard-to-find fine print elsewhere – something we see often from the big brands.  
Betr for you. Betr for everybody. 
When you switch your current OTC products to Betr Remedies, you are joining a community of people on a mission to create medication access for all. Not only are you getting the high-quality, effective products that you need to feel better through a simple and convenient shopping experience, but you are providing access to medication to someone who can't afford it. So, are you ready to #feelbetr?  
Use code REELBETR to get 50% off your first purchase at www.betrremedies.com.