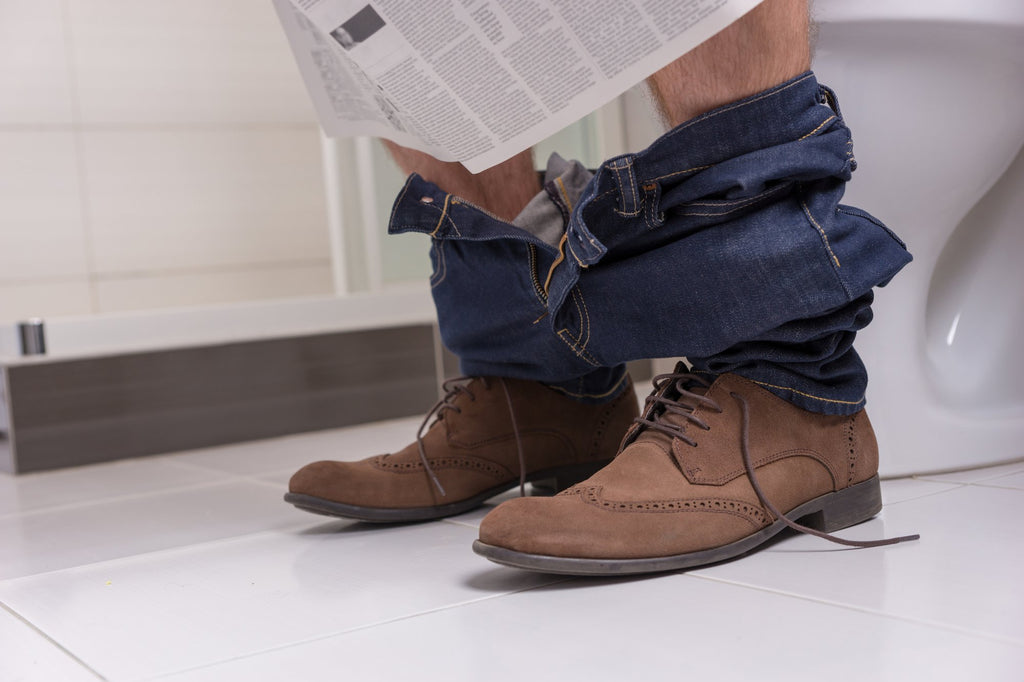 TLDR
Poop health is a topic that everyone deals with but most people don't talk about. Well, today, that changes. We're diving in and exploring some of the best ways to ensure consistent, comfortable bowel movements.
And yes, we will be discussing "
how often do people poop
?" or the frequency of
bowel movements
, often a topic shrouded in mystery.
Here's how to keep your digestive system happy and healthy!
Poop health is a topic that everyone deals with but most people don't talk about. Well, today, that changes. We're diving in and exploring some of the best ways to ensure consistent, comfortable bowel movements.
We'll be answering some of the most pressing questions like "how often does the average person poop?" and "what should I do to stay regular?" The answers to which may or may not surprise you, but they'll help you nonetheless. There are numerous factors, from diet to physical activity, that can impact your bowel habit, and even potentially contribute to conditions like irritable bowel syndrome or inflammatory bowel disease.
Here's how to keep your digestive system happy and healthy!
So, How Often Does the Average Person Poop?
Unsurprisingly, there isn't a magic number that dictates how often people should poop. However, a recent Healthline survey concluded that average bathroom habits can range from three times a day to three times a week. This can vary even more in the case of chronic diseases or conditions such as constipation or frequent bowel movements due to ulcerative colitis or Crohn's disease. Be sure to talk to your healthcare provider about any concerns you have.
Although most people have regular bowel patterns — going around the same time every day — poop frequency largely depends on lifestyle. What you eat, how often you exercise, and even when you work can all impact your bowel habits.
Fortunately, there are a few things all of us can do to stay regular.
Hydrate, Hydrate, Hydrate
Without water, we die, but without enough water, we can get constipated and experience infrequent bowel movements. The human digestive system needs water to function properly. If water supplies are low, the body absorbs water from stool in order to lubricate the digestive tract and aid with gut mobility.
When lacking water, poop becomes hard and dense. This makes it hard to pass and increases the likelihood of getting backed up. If you want to improve your poop health, stay hydrated.
Eat Fiber-rich Foods
An essential part of a healthy diet, fiber gives stool mass and stimulates bowel movement. Made up of plant parts the body can't process, dietary fiber can be found in whole grain products, fruits and veggies, nuts and seeds, and legumes.
Sometimes, it can be hard to get enough fiber from your diet. If this is the case, don't worry. Consider taking a fiber supplement to help you meet your daily quota.
Get Active
Although sudden changes in physical activity levels can cause some temporary bowel distress, regular activity has been shown to be quite beneficial. In fact, even just 10 to 15 minutes of exercise per day can promote healthy digestive movement.
Moreover, regular exercise improves the efficiency of the digestive tract and promotes heart health! As the heart becomes more efficient, less blood needs to be diverted away from digestion during exercise. This results in fewer incidents of exercise-related bowel distress.
Minimize Irritating Foods
While dehydration causes constipation, other foods may have an opposite — and equally unpleasant — effect. Such foods can irritate your stomach and cause you to have diarrhea. If this happens, avoiding irritating foods may help.
Caffeinated drinks, alcohol, and overly spicy or fatty foods can all irritate the stomach. Avoiding foods that cause frequent pooping may improve your bathroom experience. Furthermore, keeping a food log helps you understand any relationships that may exist between your diet and bowel movements.
Adjust Your Angle
In the context of all of human history, toilets are a relatively recent luxury. Before their invention, people would do a lot of squatting. This behavior has to do with both convenience and evolution.
When you squat, the angle of your colon changes. A recent study shows that this adjustment results in a more pleasant bathroom experience. Luckily, toilet footstools — like the Squatty Potty — make it easy to replicate this primal behavior from the comfort of your porcelain throne.
Should You See a Doctor?
Now that you know how often people poop and how to stay regular, you may be wondering if you should seek medical attention if your patterns are different. You should talk to your healthcare provider if you're concerned. Some things to watch out for are:
A sudden change in your normal routine

Regular

diarrhea

or

constipation

Diarrhea

that occurs after eating

Stools with a greasy appearance or unpleasant odor

Stools that display unusual colors such as pale, gray, red, or black

Symptoms like abdominal discomfort, fatigue, or unexplained weight loss

Stools that have become thin or pencil-like in shape
You can also refer to the Bristol stool chart to see if your poop looks normal.
Staying Healthy in the Bathroom
Maintaining good poop health is crucial for overall wellness and quality of life. Keeping these lifestyle tips in mind lets you show some love to your digestive system. Trust me, it won't go unnoticed.
Worrying less about your bathroom habits gives you more time to worry about what's important. Like wondering how often the average person poops or what the environmental impact is of your toilet paper (Hint: it's big). Luckily, you can reduce the impact your bathroom trips have on the environment by switching over to bamboo toilet paper.
For more bathroom health tips, keep up with us on Facebook!