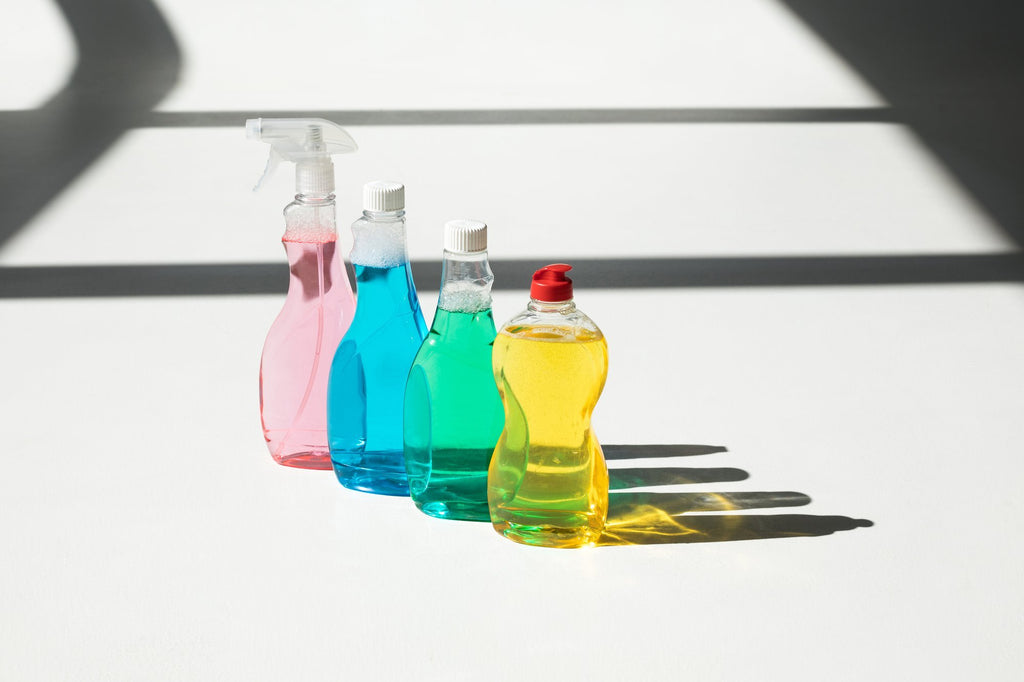 TLDR
Every family wants their home to be safe, comfortable, and clean. Unfortunately, some of the harsh chemicals we use to kill the germs are not at all safe – for us or for the environment. Luckily, there are many affordable, easy-to-use eco-friendly cleaning products that keep our families safe while preventing further harm to the planet.
Every family wants their home to be safe, comfortable, and clean. Unfortunately, some of the harsh chemicals we use to kill the germs are not at all safe – for us or for the environment. Luckily, there are many affordable, easy-to-use eco-friendly cleaning products that keep our families safe while preventing further harm to the planet.
Chemical cleaners kill the germs and promise to keep us healthy. Yet when we read the labels we see phrases like "danger," "poison," "corrosive," and "use in a well-ventilated area." In contrast, eco-friendly cleaners kill the germs without being dangerous to use.
Thankfully, eco-conscious companies also recognize that cost is a factor when people are choosing which leaning products to use in their home. Now, in 2020 when more and more companies are going green, natural cleaning products are the same price or even less expensive than their hazardous competitors.
If you want to do away with the harsh sprays and wipes, here are 8 natural and eco-friendly cleaning products and 4 Earth-conscious brands to help make your spring cleaning safer and greener.
Common Pantry Ingredients with Cleaning Power
If you've spent your life cleaning with name-brand products, it may come as a surprise to hear that you have several super-powered cleaning products right in your kitchen pantry!
For instance, white vinegar is acidic so it is naturally effective for removing bathroom mold and mineral film. You can use vinegar at full strength in your coffee maker to clean and descale, or use it to de-grease your cooktop and range hood. However, because of its acidity, it should never be used on natural stone or wood surfaces.
Another common kitchen find, baking soda, is an effective scrubbing agent. Also known as sodium bicarbonate, it has just enough grit to help remove surface dirt and grime without being too abrasive.
You can use baking soda to safely clean plastic, microwaves, countertops, bathroom sinks, tubs, and showers. As an added bonus, because it's alkaline (as opposed to acidic), it will also neutralize odors in your refrigerator.
The acidic properties of lemon juice make this fresh and fruity liquid a grease-cleaning dream. Plus, lemon juice has natural antiseptic properties, meaning it will destroy several kinds of harmful bacteria on your surfaces.
Now, don't be fooled. Just because these natural grease-fighters are common kitchen items doesn't mean they can't be harmful. Always wear gloves when cleaning with any cleaning product and be sure to research your specific household surfaces to make sure these natural alternatives to chemical cleaners won't do harm.
Off-the-Shelf Eco-Friendly Cleaning Products
If making your own cleaning products from vinegar, baking soda, and lemon juice isn't your thing, don't worry. You can still switch to eco-friendly cleaning products without having to squeeze a bunch of lemons to clean the kitchen.
In fact, these Earth-conscious cleaning products are easy to find, easy to use, and are just as effective as harsh chemical cleaners, all while smelling way more pleasant. (Because who likes the smell of bleach? No one.)
One common household brand stepping up its eco-friendly game is Lysol. Since 1889, Lysol has been helping families fight harmful bacteria and viruses. Now, in the 21st century, the mega-brand is holding true to their mission while protecting the planet.
For instance, Lysol Daily Cleanser is a chemical-free spray that kills 99.9% of germs. Safe enough to use on your children's toys, you can also use it in your kitchen and on cooking surfaces.
Surfaces aren't the only thing that need cleaning around the house. When it comes to removing stains from clothes, bleach-based products or mysterious products with "magic" on the label are common choices, though they're not the safest or the most eco-friendly.
ECOS Stain and Odor Remover, on the other hand, is safe to you and Mother Nature. It contains natural plant enzymes that break down organic stains. And if Fido has an accident on your carpet, ECOS will take care of that, too.
Lastly, if you're looking for an everyday, any-mess spray cleaner, we've got you covered. Mrs. Meyer's Multi-Surface Everyday Spray Cleaner expertly cleans the countertops and porcelain surfaces in your kitchen and bathroom. With nine different scents to choose from, including soothing lavender, it will help take the edge off cleaning day.
Using Less While Saving More
If you've ever had a marinara explosion in your microwave or a child (of any age), you've likely found yourself using an unearthly amount of paper towels to clean up a single mess. It's OK – we've all been there.
Thankfully, many eco-friendly cleaning products are aimed at reducing waste, along with reducing your contact with harmful chemicals.One example is NatureZWay Bamboo Perforated Towels.
Made from sustainable and renewable bamboo, they can be hand-rinsed up to 100 times and are tough enough to handle everything from greasy surfaces to bathtubs after giving Fido a good scrub.
When you switch to NatureZWay Bamboo Perforated Towels, you'll dispose of only 25 towels to get the cleaning power of 2500 regular paper towels. Also, compared to leading traditional paper towel brands, they are much less expensive. In fact, this eco-friendly product is 30% cheaper than traditional paper towels.
For spills on your favorite fabrics or delicate surfaces, you may prefer using microfiber towels. The E-Cloth Window Cleaning Pack enables you to clean dirty windows with just water – no chemicals needed.
Plus, the towels are good for up to 300 washings. With two E-Cloth towels in each pack, that's the equivalent of thousands of paper towels that won't end up in a landfill!
Brands Making Green Cleaning an Easy Choice
Thankfully, there are a number of eco-friendly companies that produce natural cleaning products, making green cleaning more achievable than ever before.
One such company is Grove Collaborative, a brand offering a wide line of household, personal care, baby, and kid products. They even have eco-friendly offerings for your pets! Sales proceeds go, in part, toward their collaboration with The Arbor Day Foundation and the goal of planting 1 million trees over the next three years.
Other brands leading the way in offering only the most eco-friendly cleaning products and household goods include:
Method, a company that carries only eco-friendly goods, from their packaging to their line of detergents, cleaners, and soaps.
Seventh Generation, an online retailer that carries natural cleaning, baby, and feminine care products.
JR Watkins, the granddaddy of natural product companies, specializes in natural home care with a line of detergents and soaps. Plus, their aloe- and tea-scented products will make you look forward to cleaning.
Next time you need to buy cleaning supplies, know that you can do the job without harming yourself or the planet. Eco-friendly cleaning products allow you to not only help save the environment, but help you save money, too.
Do you have favorite eco-friendly products and cleaning tips? Share them in the comments below to spread the green spring cleaning love!