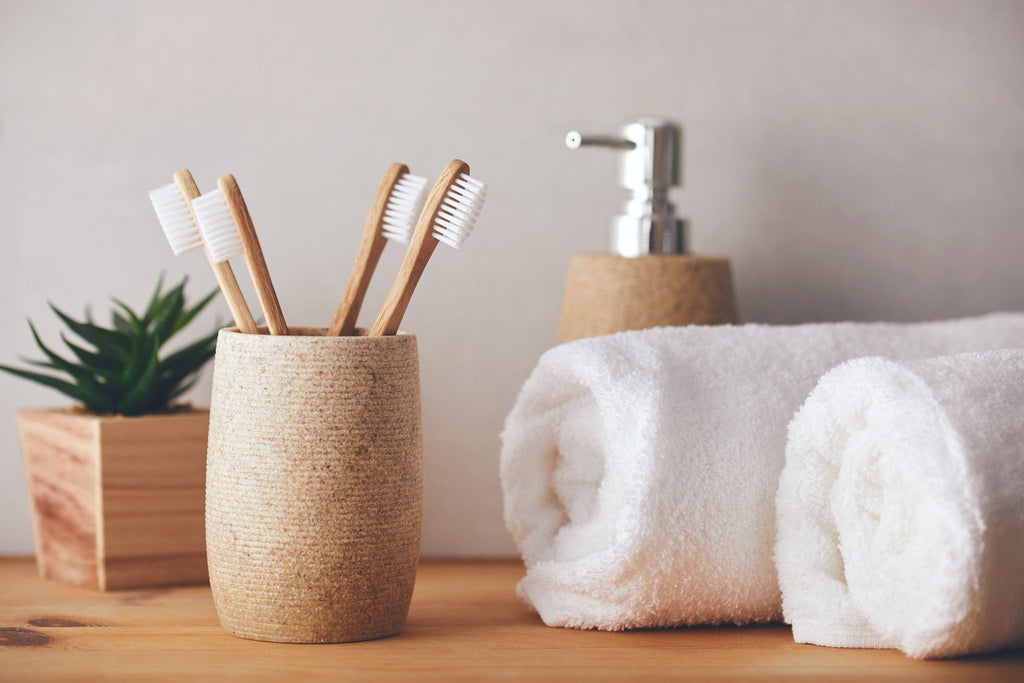 Bamboo is an amazing and versatile super-plant. If you have ever wondered, "What is bamboo used for," there are many different things to build with bamboo – from building materials to bamboo toilet paper. We love to think of the bamboo plant as being one of the ultimate DIY materials for a couple of reasons:
1. Bamboo is grass and can regenerate itself, just like the grass on your lawn. That means that you can harvest material without destroying the plant itself.
2. Bamboo grows incredibly quickly - some species can grow nearly 3 feet a day!
3. Bamboo is unbelievably strong. Bamboo poles are about 2-3 times stronger than timber and have a tensile strength similar to steel!
On top of everything else, the bamboo plant has a beautiful aesthetic and can look great in almost any home, no matter your home decor. Here are our top 5 favorite Bamboo DIY projects that you can make at home.
5 DIY Bamboo Projects to Enhance Your Home
1. Garden Trellis
If you started gardening over the last couple of years, you might have found yourself making multiple trips to home improvement stores to get all sorts of new gear for your garden that you never thought you'd need. If you're ever trying to plant tomatoes, beans, or peas, you'll find that a trellis or teepee structure can help give the climbing vines some structure. For an interesting DIY aesthetic, you can lash together bamboo stalks to create any standing structure that you need. You can use gardening wire or any kind of strong twine to create the structure, and the base of it should easily settle in your soil.
2. Privacy Screen
We mentioned earlier that bamboo is a great building material and it can be a perfect solution when trying to add a little more privacy to your backyard. A vertical bamboo pole can provide straight and sturdy supports, while thinly sliced bamboo can be woven through the vertical beams for a subtle and aesthetically pleasing privacy wall.
3. Backyard Water Feature
If you're really up for a fun challenge to learn how is bamboo sustainable, try your hand at making a fun and relaxing water feature to create a backyard ambiance worthy of morning meditation. Unlike wood, bamboo can maintain its structural integrity when wet and its hollow tube design can be the perfect natural pipe to use in a DIY bamboo fountain.
4. Wind Chimes
After you've designed the sustainable bamboo fountain, there's no more perfect complement than a whimsical wind chime that can help complete your backyard ambiance. Using dried and hollow bamboo stalks, be sure to cut them to varying lengths so that they can produce a soothing scale of tones as they move through the wind.
5. Chinoiserie Mirror Frame

Finally, you can also do a grand bamboo project if you live in an apartment or have limited outdoor space. Mirrors are great tools to brighten a room, and you can spice them up by using thin, decorative bamboo strips as a way to both frame your mirrors (or picture frame) and add a decorative geometric style to the mirror itself. For a natural wood aesthetic, you only need to draw out your design (dry erase markers are a great way to experiment with the planned style) then affix the bamboo to the glass with mirror glue. If you're looking for more elevated home decor, you can spray paint the bamboo with gold paint prior to gluing, or you can get some metal leaf adhesive and gold leaf sheets for a funkier, flakier vintage look.
You can make many different DIY bamboo products for your home. Reel Paper takes it a step further with bamboo toilet paper and bamboo bulk toilet paper. If you're deciding between bamboo vs. recycled toilet paper, then check out our post to learn about the benefits of both eco-friendly paper products.