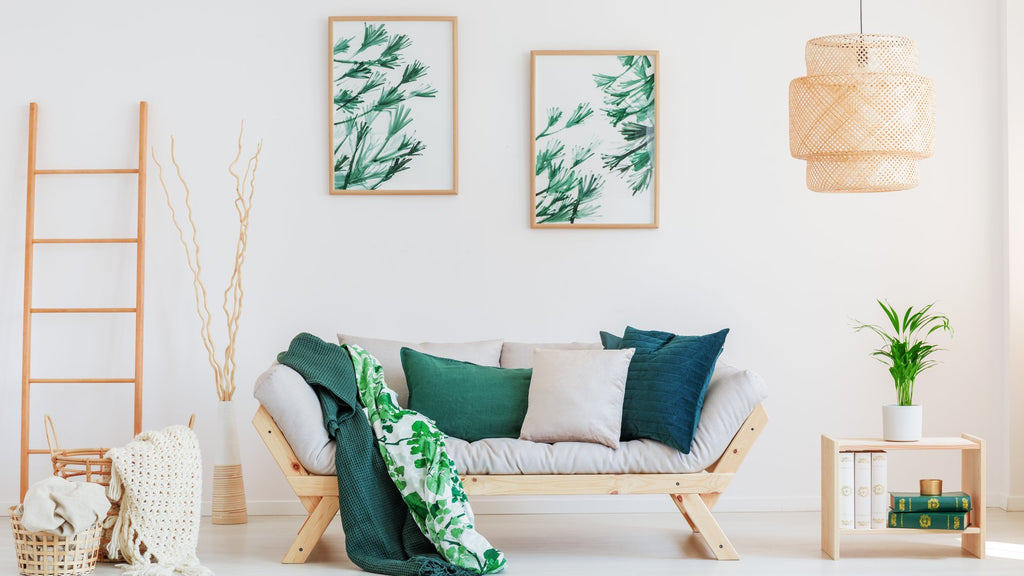 TLDR
Bamboo is a wondrous plant. It's durable, sustainable, and along with its 'magical' properties, bamboo home decor is natural, stylish, and earth-friendly.
Decorating your home allows you to express your individuality while creating your very own happy place. With so many options for colors, frames, textiles, and more, home decor is a mish-mash of options. Yet, while shag carpets may be a thing of the past, one trend that's here to stay is bamboo home decor.
According to United Nations Africa Renewal, "some swear the bamboo plant is 'magic' in mitigating the effects of climate change through rapid reforestation, slowing soil erosion and repairing damaged ecosystems. Bamboo also serves as an excellent large-scale carbon sink, each plant taking in almost double the carbon dioxide of a tree."
Bamboo is more than just a wondrous plant. It's durable, sustainable, does amazing things in the environment, and is a natural and stylish way to decorate your home.
If you're looking for modern, eco-conscious ways to bring new life to your home, we have the shopping guide of your dreams...
Decorate Your Space to Minimize Waste
On the topic of the waste problem, LA Times reports,"Each year, nations generate 1.3 billion tons of waste. That's expected to soar to 4 billion tons by 2100, according to Ede Ijjasz-Vasquez, senior director for the World Bank's Social, Urban, Rural and Resilience Global Practice."
By opting for sustainable home decor and using materials like bamboo in your home, you can reduce the amount of waste that ends up in landfills and in oceans.
A Kitchen Favorite Goes Sustainable
The lazy Susan is an 80's classic that has lasted through the decades due to it's usefulness – and it's just plain fun! The handy spinning platter can house your dining table essentials like salt and pepper. Usually placed in the center of the table to make passing the crème fraîche way easier, this lazy Susan has gone renewable.
Crate & Barrel describes this piece as being "crafted entirely of renewable bamboo. This beautiful, low-profile lazy Susan spins as it serves sushi, dim sum and other small bites. Stronger than red oak or maple, bamboo, with its warm honey tones, is a natural neutral that blends well with a variety of other serving pieces."
Enlighten your guests on the wonders of the iconic lazy Susan and all the fancy uses of bamboo.
A Coffee Table Essential, Bamboo Style
One of Target's home decor brands, Opalhouse, offers a wide variety of eclectic home furnishings and decor. Bamboo home decor is made easy with their Bamboo Serving Tray.
Get creative and decorate the tray with your favorite coffee books, candles, and a small succulent. Not into that? Use the tray as a catch-all for your half-dozen TV remotes.
This piece would certainly add bamboo flare to your patio setup, too. Protect your dining utensils from the outdoor surfaces for the next time you and your pals decide to enjoy the warm summer evenings. Citronella candle not included.
Sprout Your Own Bamboo Home Decor
Decorate your kitchen or bedroom with a bamboo plant to bring some zen to your space. It's a natural way to add life and color to any room. Here are some tips on how to keep your bamboo buddy healthy:
Bamboo grows best when it has sunlight. Place your plant in a window that gets sunlight during the day.
Water your bamboo plant once per week. Add just enough water to reach the top of the roots to prevent over-watering.
You may start to see yellow spots on the leaves of your bamboo plant. Not to worry. Gently pull the dry parts off of the leaves to allow healthy green to grow through.
Branches may fall off of your bamboo plant, but don't toss them in the composter. Place the broken branch into a vase with rocks and water up to the roots. In no time, you'll sprout a brand new plant!
Every space feels brighter and cozier with a few plants around. Make bamboo your new favorite roommate.
Light Up Your Space with Bamboo
Bamboo home decor brings an eccentric touch to your living room or bedroom. If you can't craft a bamboo candle holder by hand, head to Pier 1 and pick up their Bamboo Hurricane Candle Holder.
These unique bamboo lighting pieces add a natural, earthy feel to any room. If this piece caught your eye but you don't have a spot for it inside your home, it's great for your covered patio, too. Simply place a natural candle in the holder and relax.
Whether you shop for it or make it yourself, the bamboo decor possibilities are endless. Inspire us in the comments with some of your favorite bamboo home decor recommendations and D.I.Y. projects!