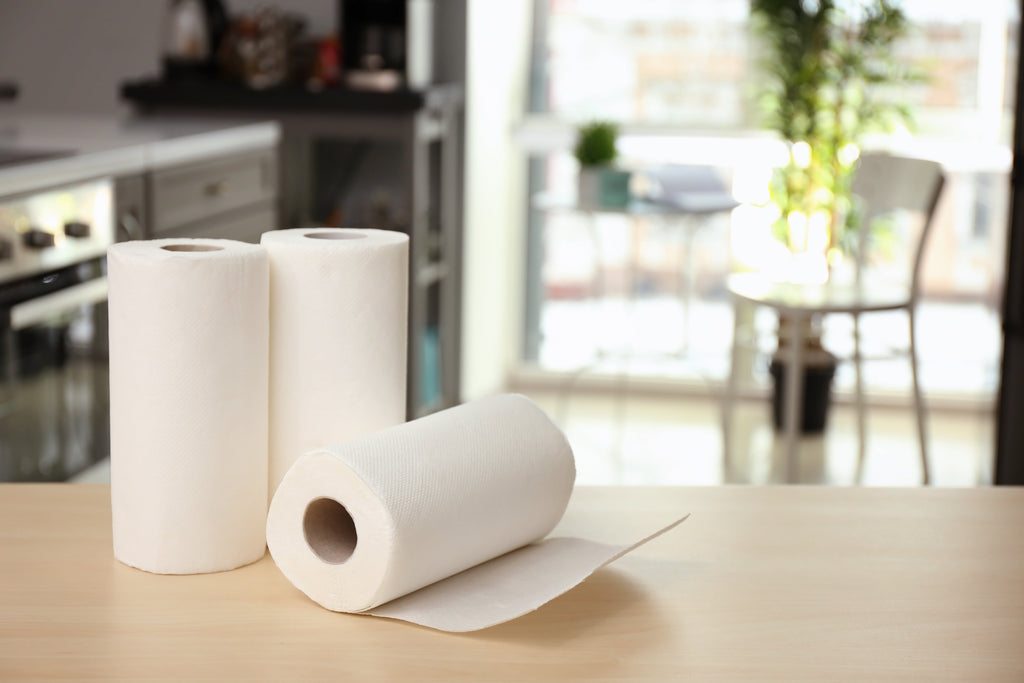 TLDR
Paper towels are not recyclable.
Can paper towels be recycled? Unfortunately no, paper towels are not recyclable. It may go against our intuition since we know paper comes from trees.
So, if paper towels aren't recyclable, then is wrapping paper recyclable? Or can you recycle cardboard? Ultimately, unused paper goods that don't have food waste on them can go to your recycling bin. From there, it's sent to a sorting area where it can be reused as a paper good once again.
In addition to food waste, there are a couple more reasons why paper towels can't be recycled, including the makeup of the paper and the normal use cases of paper towels.
Why can't you recycle paper towels?
The fiber length of paper towels, especially recycled paper towels, from the outset makes it difficult to recycle. For things such as office paper, it can be recycled multiple times as it is made from a long fiber, but paper goods such as paper towels are usually made from smaller fibers. Breaking it down again to try and recycle it is very difficult and, in many cases, isn't possible. Following this logic, you may ask, "Can you recycle shredded paper?" and the answer is also no, due to similar reasons. The smaller fibers can clog up sorting machines, achieving more harm than good.
On top of that - if you think about what paper towels are traditionally used for - cleaning up - they are most often contaminated or soiled, making them even less attractive to be recycled. Only clean paper that hasn't come in contact with any harmful chemicals or food can be recycled, so paper towels wouldn't fit that description.
There is one component of most paper towels that can be recycled, though - the core. Most times, this cardboard or paperboard tube is made from longer fibers that are perfect for recycling. They also aren't part of the cleaning process, so they are usually free of any harmful things that cause paper towels not to be recycled.
How should I dispose of used or new paper towels?
Fortunately, proper waste management of paper towels is not that hard. Whether the paper towels are used or new, the best option for disposing of them is by composting them. However, if they have been used, you will want to make sure that no harmful chemicals have been wiped up by the paper towels before adding them to the compost.
A lot of the negatives about paper towels in the recycling process actually make them a great fit for your compost bin. All of that food you wiped up, and the short fibered paper can be added in and feed the compost bin nicely. If you don't have a compost bin, don't worry! One option is to see if your area has a composting facility nearby that is open to dropoffs from people in the area. If that is not an option - ask around! You will be surprised at how many people have compost bins, and they can probably teach you a thing or two about starting your own.
Eco-friendly alternatives to paper towels
If you are looking for an eco-friendly alternative to paper towels, there are a couple of different routes to go.
First, would be purchasing some upcycled kitchen towels for your home. There are tons of great companies around the country making products from upcycled fabrics, so you should be able to find an option that fits your needs or aesthetic. One of our personal favorites is SUAY Sew Shop in Los Angeles. 
Choosing upcycled towels gives a second life to these garments and is something that you can use for years to come, hopefully. They can also do pretty much any of the tasks that you traditionally use paper towels for.
If you prefer to have both paper towels and kitchen towels in your kitchen, you should look to buy paper towels that are completely tree-free, like our 100% recycled paper towels. There are many instances where paper towels are necessary, but when choosing them, it is good to choose ones that are not contributing to global deforestation. 
Many paper towels are made from virgin tree fibers, meaning trees are cut down to make the paper towel (and even toilet paper) product. Since these paper towels can't be recycled, that means they are a very poor use of the trees that are being cut down to make them. Fortunately, you can find sustainable paper products, like recycled paper towels, bamboo toilet paper, and other bamboo paper products available to help the environment.
At Reel Paper, we're dedicated to combating deforestation by opting for 100% tree-free paper products. With the same amount of plushness and absorbency, you're better off going green with recycled paper products.