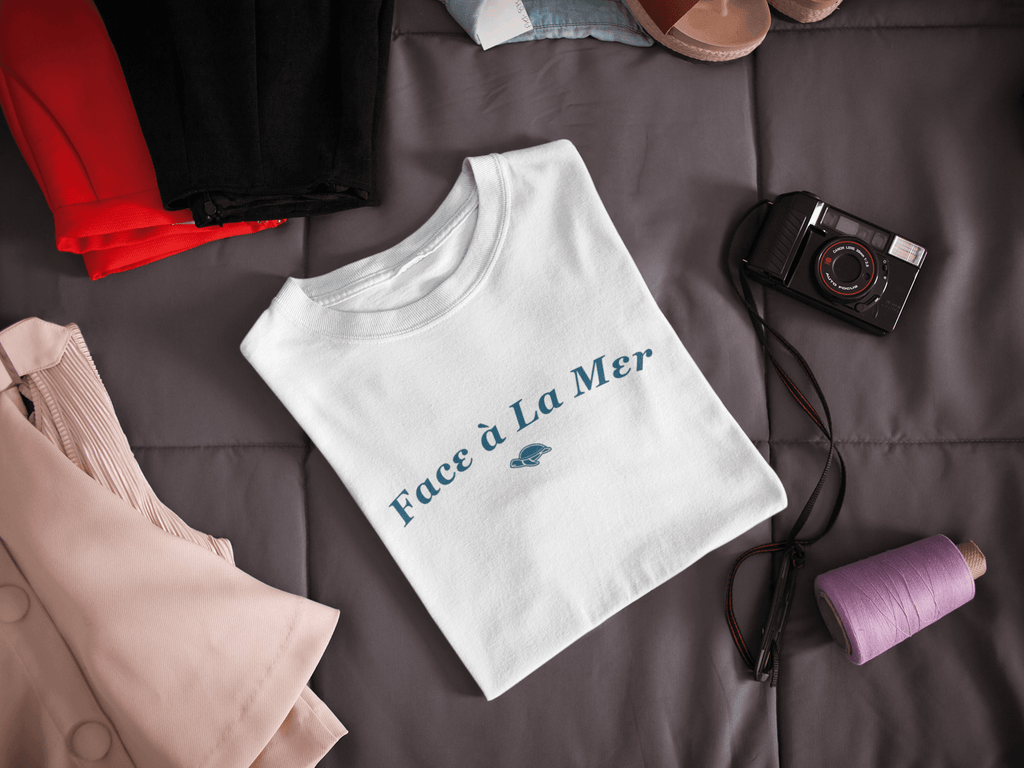 TLDR
Reel Paper would like to shine a light on Face a la Mer, an apparel brand that wants to create a sea change in the way we treat our oceans. Founded by a scuba diver with a passion for the ocean and environment at large, the company creates stylish threads that are Fair trade, Organic, and Climate Neutral.
Reel Paper would like to shine a light on Face à La Mer, an apparel brand working to change the way we treat our oceans. Founded by a scuba diver with a passion for the ocean – and the environment at large – the company creates stylish threads that are fair trade, organic, and climate neutral.
You'll love wearing their cozy sweatshirts on foggy mornings at the beach, and their short-sleeved tees and tanks will become your attire du jour in warmer weather. Each piece sports a unique design, from a Celtic Sea Turtle to a Surf Warrior or an Adélie penguin.
But the company does a lot more than make waves with fun clothes. Face à La Mer only uses water-based, eco-friendly vegan inks – and they never test on animals.
Here are a few things you need to know about this environmentally conscious clothing brand.
Swimming to the Winning Side
Face à La Mer means "facing the sea." The company knows it's not enough to make fashionable and sustainable clothes; it's about facing up to the threats endangering our oceans and sea life – and doing something about them. Face à La Mer donates a portion of proceeds from every sale to Project Aware, a global force of passionate scuba divers.
Project Aware has been working since 1992 to mitigate ocean pollution, remove marine debris like plastics, and protect vulnerable species. They've removed a million pieces of debris and created an underwater debris survey app. They do "fins-on" work in local communities and help create beneficial global ocean policies.
Recently, the nonprofit has worked to protect sharks and rays, several species of which face extinction due to overfishing and demand for their gill plates. Sharks and rays are also victims of "incidental fishing" when they're pulled up in nets intended for other fish.
Wearing Your Heart on Your Sleeve
There's no doubt Face à La Mer customers like the brand's comfortable fabrics and cool designs. Most also prefer to put their money where their values are – they care about the materials, processes, and people involved in manufacturing the clothing.
Face à La Mer uses organic cotton; sweaters contain 15% recycled polyester. Their EarthPositive tees and sweatshirts are made in facilities exclusively powered by wind and solar. The use of renewable energy and low-impact farming have reduced the brand's carbon footprint by 89%, and they comply with Fair Wear Foundation's code of ethical conduct.
You'll also notice a Fairtrade label on Face à La Mer's sea-sational collection. They've gone the extra nautical mile to ensure they do right by everyone, including you. Organic cotton is much softer against your skin – and it's more durable than cotton treated with harsh chemicals like bleach and formaldehyde that can wear down fibers.
Face à La Mer uses compostable and degradable paper and weatherproof biodegradable packaging made from responsible, sustainable sources that comply with Forestry Stewardship Council (FSC) certi­fica­tion.
Fashion 101 & 02
Oceans cover 71% of the earth's surface and contain microscopic plants – phytoplankton – that, through photosynthesis, produce an estimated 50-85% of the oxygen we breathe. Phytoplankton are responsible for transferring and sequestering around 10 gigatons (1 gigaton = 1 billion tons) of carbon per year in the deep ocean.
As oceans warm due to climate change, less warm and cold water circulate along the global conveyer belt, and cold, nutrient-rich water settles at the bottom. Warmer surface water leads to fewer nutrients for the phytoplankton to consume. Even small changes in their growth can increase carbon in the atmosphere and speed up global warming.
Phytoplankton need iron to thrive. So where do they get their recommended daily allowance? Whale poop feeds phytoplankton, which feeds krill, which feeds the whales. These gentle, massive mammals help make breathing possible for all of us land-dwellers. Yet, they're imperiled by pollution, sonar devices, and global warming.
The impact of ocean health on everything from food to oxygen supplies should be enough to make everyone rethink their habits.
Face à La Mer – One Drop at a Time
Face à La Mer recognizes the beauty of our oceans and the necessity of supporting their health and marine life. Everything on the planet is connected to the sea. Sustainable clothing is a small messenger of a bigger cause; each item you buy puts a little drop of life back into the ocean.
Reel Paper is proud to call Face à La Mer a peer in a common initiative to help mitigate social and environmental harm. We want to turn the ship around and point our compass toward a more promising future.
Do you want to let us know about another amazing eco-conscious brand? Tell us in the comments below.
Then, learn about other brands promoting sustainability by signing up for our newsletter!